Art Classes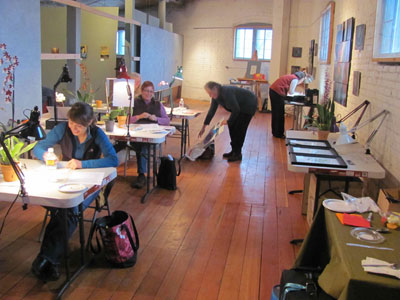 "Botanical Illustration in Graphite was a wonderful class and I am so full of enthusiasm and ready to draw again. Your class showed me some great tips, especially just how to get started on a sketch. You have inspired me!" – Jennie Vander Weide
Nancy has been teaching botanical illustration and nature journaling since 2004. She received her certification in classical botanical illustration from The Denver Botanic Gardens in 2003. She has taught at The Montana Natural History Center, The Yellowstone Association Institute, and at The University of Montana's continuing education courses for age 50+ (MOLLI).
2012 CLASS SCHEDULE
Botanical Illustration in Graphite
Dates: FIVE Thursdays: Oct. 4, 18, 25, Nov. 1, and 8, 2012
(Please note that we do NOT meet on Oct. 11)
Time: 6:00 p.m. – 9:00 p.m. (3 hours)
Cost: $175.00 (cash, check, credit card, or paypal)
Please send $50 to hold your spot to:
Nancy Seiler
517 E. Florence St.
Missoula, MT 59801
Location: Missoula Senior Center
(this class is open to anyone aged 16 and up)
705 S. Higgins Avenue
(corner of Higgins and 6th)
Class Description: Learn how to create a classic botanical illustration in graphite in this 5-week introductory course.
We will start by reviewing the history of botanical illustration and some simple botany to understand your specimens better.
You'll learn how to 'build' your drawing by breaking it down into manageable layers of sketching, refining, shading and composition. You'll also understand how to set up your workspace, look at light, perspective, texture and detail.
Since so many basic botanical illustration techniques and exercises are covered in this introductory class, it is the prerequisite for botanical illustration classes using color.
How much drawing experience do I need to sign up for this class?
This class is appropriate for beginners as well as more experienced artists. I work with each student one-on-one as well as in a group. Each student can progress at their own speed. I have had many students who haven't drawn since they were kids who have enjoyed this class.